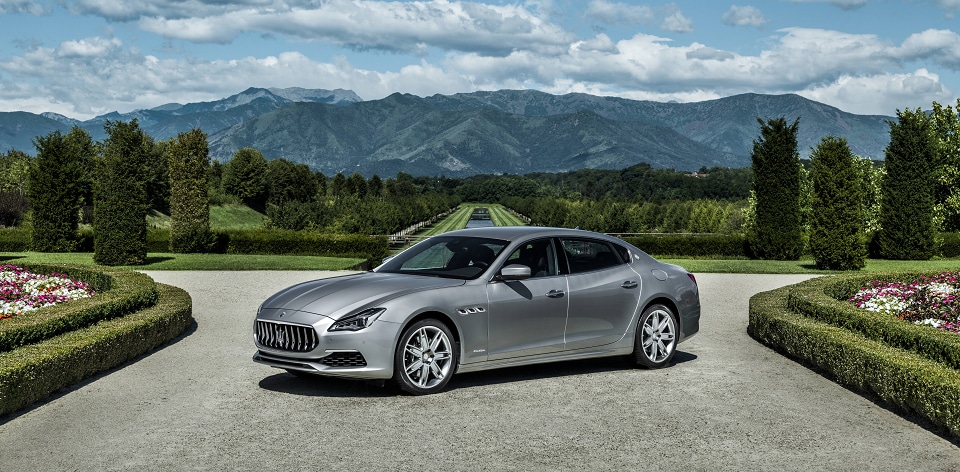 Compare the Maserati Quattroporte vs. the Competition
If you thought choosing a luxury performance model was tough, just wait until you get a look at what the Maserati Quattroporte near Norwood can offer you over the competition. The amount of benefits the Quattroporte offers over the likes of the Jaguar XJ and Alfa Romeo Giulia are astonishing. Bringing home one of these new Maserati cars near Boston takes a few quick steps. Deciding which to bring home may be the toughest decision of all, but rest assure that our team is here to help you make the right choice. Knowing the distinction between the Maserati compare to Jaguar and Alfa Romeo models will help you become confident that the Quattroporte is the car you should bring home, and the XJ and Giulia should stay where they are.
Power, Performance, and Prestige
The Maserati Quattroporte packs in plenty of power, even in the entry-level Quattroporte S model – which we might add is far from what you think of when you think of "entry-level". The standard twin-turbocharged V6 engine produces a robust 424-horsepower and 428 pound-feet of torque. An even more potent 523-horsepower, 524 pound-foot twin-turbocharged V8 is available as well. Compare that to the Porsche Panamera, which offers 330-horsepower in its base engine, and the Jaguar XJ, which offers 340-horsepower in its base engine, and you'll begin to get a better idea of just what you get when you choose the Quattroporte over the competition.
Style, Space, and Size
Looking for a sports car or luxury vehicle near Quincy with sleek, attractive design both outside and inside the cabin? The race-bred Quattroporte boasts bold lines, unique Maserati touches, and an attractive blend of dynamic and sporty features and pampering luxury amenities. What's more, the full-size Quattroporte measures a generous 207 inches long, 77 inches wide, and 58 inches tall – making it longer, taller, and wider than the Porsche Panamera and longer and wider than the Jaguar XJ. That, in turn, means there's more room for whatever the road ahead brings – and whomever you bring along for the ride throughout Newton, Providence, RI, or beyond.
Standard and Available Safety Features
Like the Porsche Panamera and the Jaguar XJ, the Maserati Quattroporte comes standard with a wide variety of standard safety features and offers many additional active safety technologies, too. From its highway assist system to its adaptive cruise control to its surround view camera, the Maserati Quattroporte can be equipped to go above and beyond to protect its passengers, however possible.
Infotainment and Convenience Technology
From standard remote start to soft-close doors, to four-zone automatic climate control, the Maserati Quattroporte offers a level of premium convenience features you'd be hard-pressed to find in some other luxury vehicles. Still, the Porsche Panamera offers Porsche Communication Management Technology and the Jaguar XJ In Control Touch Pro technology to make connecting to your smartphone easiser. That said, the Quattroporte, too, boasts its own set of impressive infotainment technology, including a standard Maserati Touch Control Plus (MTC+) infotainment setup with a large 8.4-inch touchscreen, Bluetooth® streaming, and Apple CarPlay® & Android Auto™ smartphone integration.
Maserati Quattroporte vs. Other Maserati Models
There's no doubt that you have plenty of new Maserati model options at our dealership, and deciding which of these luxury performance cars to bring home can be tough. The Maserati cars near Newton have a lot to offer, so which do you choose? Compare them side by side and see which offers what you need.
Maserati Quattroporte
Top Speed & Acceleration: 179 mph | 4.7 seconds
Engine Options & Drivelines: 3.0-liter V6 with 424 horsepower; 3.8-liter V8 with 523 horsepower | RWD & AWD
Trim Levels: Quattroporte GranLusso or GranSport | Quattroporte S, Quattroporte S Q4, Quattroporte GTS
Cargo Space: 18.7 cubic feet
Maserati Ghibli
Top Speed & Acceleration: 178 mph | 4.7 seconds
Engine Options & Drivelines: 3.0-liter V6 with 345 horsepower; 3.0-liter V6 with 424 horsepower | RWD & AWD
Trim Levels: GranLusso or GranSport | Ghibli, Ghibli S, Ghibli S Q4
Cargo Space: 17.66 cubic feet
Maserati GranTurismo
Top Speed & Acceleration: 187 mph | 4.7 seconds
Engine Options & Drivelines: 4.7-liter V8 with 454 horsepower | RWD
Trim Levels: GranTurismo Sport, GranTurismo MC
Cargo Space: 6.1 cubic feet
Maserati Quattroporte vs. Jaguar XJ
These two luxury brands have a lot to offer, but if you want 523 horsepower, you should choose the Maserati Quattroporte near Quincy because the XJ can only offer 470 horsepower on its 5.0-liter Supercharged V8 engine. The standard Jaguar XJ engine is a 3.0-liter Supercharged V6 with 340 horsepower, which also falls beneath the Maserati Quattroporte which offers a base 424 horsepower. Both of these models are offered in RWD and AWD options, but the Jaguar XJ doesn't offer a top speed or acceleration that matches that of the Maserati Quattroporte. You'll get 187 mph with the Maserati model and only 155 mph on select Jaguar XJ engines. The XJ also fails to accelerate as fast as the Maserati Quattroporte, giving you a zero to 60 time in 4.9 seconds and 4.7 seconds respectively.
Maserati Quattroporte vs. Alfa Romeo Giulia
The Alfa Romeo Giulia boasts an exciting engine capable of 280 horsepower, a top speed of 149 mph, and acceleration from zero to 60 in 5.1 seconds. The Maserati Quattroporte near Providence, RI, not only does it one better, but it blows it away in all categories. The Quattroporte can deliver up to 523 horsepower, a top speed of 187 mph, and goes from zero to 60 in as little as 4.7 seconds. Even the fastest Alfa Romeo engine fails to deliver as much horsepower, stopping at a mild 505 horsepower, and even the base Maserati Quattroporte engine offers more than that of the base Giulia engine - an exhilarating 424 horsepower.
Visit our new Maserati model dealership today to test drive an exciting new performance vehicle to see how it compares to others you've driven in the past. We're here to help you find the right new Maserati lease or loan option to suit your needs, so don't hesitate to contact our team with questions or concerns.
Make an Inquiry
Sales Hours
Monday

8:00am - 6:00pm

Tuesday

8:00am - 6:00pm

Wednesday

8:00am - 6:00pm

Thursday

8:00am - 6:00pm

Friday

8:00am - 6:00pm

Saturday

8:00am - 5:00pm

Sunday

12:00pm - 5:00pm
See All Department Hours
Dealership Hours
Monday

8:00am - 6:00pm

Tuesday

8:00am - 6:00pm

Wednesday

8:00am - 6:00pm

Thursday

8:00am - 6:00pm

Friday

8:00am - 6:00pm

Saturday

8:00am - 5:00pm

Sunday

12:00pm - 5:00pm
Parts Dept. Hours
Monday

8:00am - 6:00pm

Tuesday

8:00am - 6:00pm

Wednesday

8:00am - 6:00pm

Thursday

8:00am - 6:00pm

Friday

8:00am - 6:00pm

Saturday

8:00am - 5:00pm

Sunday

Closed
Service Dept. Hours
Monday

8:00am - 6:00pm

Tuesday

8:00am - 6:00pm

Wednesday

8:00am - 6:00pm

Thursday

8:00am - 6:00pm

Friday

8:00am - 6:00pm

Saturday

8:00am - 5:00pm

Sunday

Closed