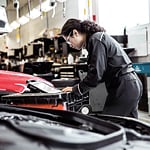 Have you ever had a recall? if not, don't worry. Recalls aren't as bad as they sound. Here at Boch Maserati, we stay on top of vehicle recalls. How do we find out about recalls? It's easier than you think. Here are the basics.
What Exactly Are Recalls?
A recall is a manufacturer- or NHTSA-issued determination that your vehicle, motor vehicle equipment, car seats or tires do not meet United States Code for Motor Vehicle Safety standards. The recall may require the manufacturer to repurchase the recalled product, or it may entail covered repairs here at Boch Maserati during a prescribed safety improvement campaign.
How to Find About Recalls
Download the Safercar app or visit the website of the same name. In-app and online, you can find related recalls by entering your vehicle's VIN. The NHTSA issues recall alerts via email. You only have to sign up for them. Be sure to keep your vehicle registration current. When you do so, your vehicle's manufacturer automatically sends you recall info and safety guidance by mail.