At Boch Maserati, your choice of exotic vehicles in the greater Boston area from our Norwood showroom means that you're able to find the ultimate thrill in your automotive experience, and surround yourself in true luxury from each and every vehicle we provide. Among our popular vehicles in the new Maserati showroom is the Maserati Levante, a SUV that offers excitement not only through its stellar design, but also its masterfully engineered underpinnings, making it the standout luxury choice among mid-size luxury SUVs.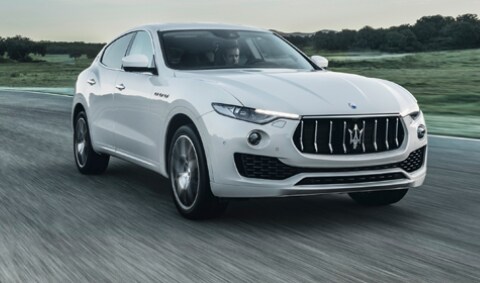 With the Levante, you have a fully-capable vehicle that can take on challenges on or off the beaten path, with Maserati's sophisticated Q4 AWD system, which comes with torque vectoring for a ride that is firm and responsive using the Levante's eight-speed gearbox. Not only that, but its low center of gravity and balanced weight distribution allows for it to deliver premium handlings, and unleash power at the touch of the accelerator, powered by a 3.0-liter twin-turbocharged V6 engine that is exclusive to Maserati, and comes with the backing of the finest Italian power pedigree out there offering the choice of standard 345 horsepower, or optional 424 horsepower.



As you should expect, the interior of the Levante matches the high level of quality that you find from its technical engine components and exterior build. There's spacious seating for five, with room for added cargo and configuration, with fine Italian leather, wood, or carbon-fiber trims, and your choice of Sport or Luxury option packages, including the exclusive Zenga Package silk interior, which sets the Levante apart from all other luxury SUVs. You'll also find connectivity in the form of a new 8.4-inch touchscreen, which is standard with a new central control knob and has access to both Android Auto™ and Apple CarPlay® giving you a seamless connection with your smartphone and many of its features so you will not miss a beat.



The Levante not only provides performance and style at the highest level, but safety as well. It features the likes of forward collision warning, blind spot alert and rear cross path detection, lane departure warning, and adaptive cruise control with stop and go as standard protective technologies available for you.
With all this in mind, it should be clear that the Maserati Levante is the choice when it comes to luxury SUVs in the Boston, Providence, Norwood and Quincy areas. However, here at Boch Maserati, we understand that drivers want to see all the choices, including our competition. That's why we've put together this handy guide that highlights the advantages the Levante has over others in the segment.
Maserati Levante vs. Audi SQ5
Along with all the aforementioned features that you'll find on the Levante, it boasts the likes of active front head restraints for added safety, a standard navigation system onboard, and standard leather seating as features that the Audi SQ5 doesn't have. In addition, the Levante has a longer wheelbase, and more cargo volume and passenger volume for a more comfortable and spacious ride.



Maserati Levante vs. Mercedes-Benz GLC43 AMG
Once more, these vehicles do have many similar features, and you'll experience all the power and connectivity you desire in the Levante, but often times, it's the little things that add up. That includes standard speed-sensitive wipers to provide a clear line of vision when driving in inclement weather, which the GLC43 AMG does not provide. Once again, a navigation system is not standard onboard the Mercedes-Benz vehicle as it is the Levante, and nor are your choices of fine leather seating. You will also find that the Levante provides more torque, along with the expanded wheelbase and height, while offering similar cargo space and passenger volume.


Maserati Levante vs. Porsche Macan
When you have a vehicle as luxurious as both of these, you want some feeling of familiarity, every time you get behind the wheel. Of course, with all the features on the Levante, you will feel that, but again, little things such as memory adjustable exterior mirrors, that know your driving settings, and make sure they are at the right levels is something the Levante provides, but not the Macan. In addition to having fine leather seating, the Levante provides a standard heated front seat for those cold New England winters, along with a power front memory seat for that familiarity we want from our vehicle, plus front power lumbar support, all of which is only an optional feature on comparably equipped Macan vehicles. Let's also not forget that the standard Levante bests the Macan in horsepower with 345 to the Macan's 252 in base form, while also offering an eight-speed transmission, and more cargo and passenger volume.



Learn More About the Maserati Levante at Boch Maserati in Norwood
All these advantages that the Levante has over its competition are just a slice of what you can expect from the vehicle which offers a full luxury experience. We invite you to stop into our Norwood showroom serving Quincy and the greater Boston and Providence areas to see what we mean. Contact us today and we'd be happy to arrange a meeting time for you to take a closer look!