Maserati Storage and Maintenance
 Maserati is the epitome of elegance, keep it well protected in Boch Maserati of New England's fortified storage facility in Norwood MA. With an elaborate surveillance system, 24/7 onsite security guard, climate control, and full time tire & battery maintenance, storing your prizes sports car with us is common sense. We also perform all necessary maintenance service on site. For just $450/mo ensure your Italian speedster stays well-kept through the winter. Tires can be filled with nitrogen upon request and, provided 24 hour notice, we can have your car fully detailed and ready to turn heads cruising downtown Boston. 
Visit Maserati of New England or call our friendly Maserati representatives to learn more about our storage & maintenance services. 
Call (888) 364-7180 for all your
Maserati Service
needs, or use the contact form to the right.
Maserati of New England's Storage and Maintenance Facility
Only $450 / month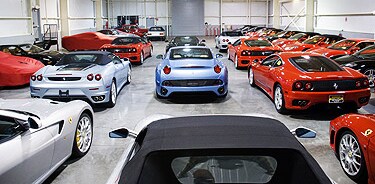 Climate Controlled Year-Round Storage Facility
24-hour security guard assisted by an elaborate surveillance system
Full-time battery and tire maintenance
Tires filled with Nitrogen upon request
All makes and models welcome
Only 24 hours notice to have your car fully detailed and ready to go
All service needs can be performed while your car is in storage